Why FITS _
The FITS project emerged with the aim of providing a dedicated space to address design-driven innovation in key sectors of the economy through tailor-made training programmes, drawing on IED's more than 25 years of experience in the education sector.
FITS courses are designed on the basis of the needs and challenges of each client, which we resolve using challenge-based learning.

Further, the training provided may be subsidised by the Spanish State Foundation for Training in Employment (FUNDAE), a public body that aims to promote training for workers in employment, whether employees or self-employed, as well for unemployed workers.
Companies are free to select the content and topics that best suit their needs, with the possibility of accessing a partial subsidy for the activity undertaken once the course is finished.

Download the brochure
A community to design the future
FITS boasts a vibrant community of highly experienced professionals who believe in creativity as a source of inspiration, in commitment as a relationship with society, in transparency as a means of communication, and in passion for learning as a driver of change. A community that relishes in designing the future.
All FITS teachers are also active professionals in the world of business, international design, creative innovation, organisation, or company management.
The duality of their professional and academic profiles enables them to transmit the skills and cutting-edge knowledge needed to understand both the present and future scenarios of their sector.
The diverse backgrounds and areas of expertise of our academic team, coupled with the common denominator they share in terms of their creativity, enable us to blend:
Design
Art
Management
Marketing
Publicity
The project of the Future Innovation Tailor-Made School, or FITS, emerged from the need to offer a dedicated area addressing design-driven innovation in key sectors of the creative and cultural economy, through training programmes specifically tailored to suit the needs of companies, institutions and universities.
FITS designs and develops innovative solutions based on the needs and challenges of our clients, which we resolve through creative methodologies to drive innovation — a concept known as challenge-based learning.
Our long-standing expertise in this regard has led us to become an international benchmark in areas such as fashion, product design, mobility, spaces, services, graphic and digital design, visual communication, marketing, strategy design and design thinking.

In launching FITS, our aim was to offer a series of unique, custom-made programmes, created in close collaboration and co-creation with the beneficiaries of this learning process.
Our ultimate goal is to generate knowledge that provides real value in terms of innovation that can be applied and measured right from the first minute, throughout the programme, and beyond.
The idea is to go a step further than the classic consultant/client relationship framework and build, together with our clients, an experience suited to the specific organisational, cultural, economic, technological and market realities of a given company, institution or university.
We believe that tailor-made learning can represent a strategic ally in generating opportunities and providing innovative solutions. Innovation with a cultural and systematic base that goes beyond innovation driven by technological investment alone.
Our programmes include tools for continuous self-assessment according to pre-established objectives, enabling decision makers to measure the results of the actions undertaken in a given FITS course.

It is a revolution that begins with the application of a design methodology that looks towards new global professional, economic, social, relational, cultural and technological horizons, which are changing the shape of the society we know today, and that of tomorrow.
Alessandro Manetti
CEO IED Spain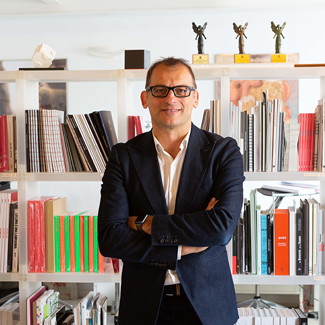 Nuestro objetivo principal es generar un conocimiento que aporte un valor innovador, aplicable y medible desde el minuto uno tras finalizar el programa"
IED Network _
Over 50 years' experience teaching design
The Istituto Europeo di Design is an education and research institution dedicated to Design, Fashion, Visual Arts, Communication and Management.
The Group that originated in Milan over 50 years ago now comprises an international network of 11 schools in Italy, Spain and Brazil, welcoming nearly 10,000 students from 100 different countries every year.
Thanks to its multinational structure, students can move from one school to another with a choice of over 200 courses including Official Undergraduate, Masters and Post Graduate Degrees, IED Diplomas, Ongoing Training, Summer Courses and Tailor-Made Training.
Over 50 years of history
12 _
locations
3 _
countries across the world: Italy, Spain and Brazil
10.000 _
students each year
Over 100 nationalities each year

More than 170 _
academic partnerships
1900 _
teachers
Over 120.000 _ alumni
IED Spain _
At the forefront of design education
IED Spain is the country's largest international campus dedicated to design education and research. It forms a part of the Istituto Europeo di Design network, created by Francesco Morelli over 50 years ago, which now includes schools in 12 locations spread across Italy, Spain and Brazil. In 1994, the first school opened its doors in Madrid, followed by that of Barcelona in 2002, and Bilbao in 2020, joining forces with the Kunsthal Design School to form Kunsthal – IED Bilbao. These schools offer the most cutting-edge qualifications in a wide range of design disciplines: fashion, product, interior, transport and strategic design, visual communication, and design management.
IED Spain's commitment to education focuses on the delivery of top quality programmes linked to official institutions and national and international companies, in its mission to lead the way in higher education in design. To achieve this, IED has embarked upon a wide range of educational and practical initiatives linked to the business environment across its three Spanish locations, through over 200 collaboration agreements.
IED Spain currently welcomes more than 3,300 students across its 190 plus courses. It also has a faculty that includes over 1,400 design professionals, who take time out of their successful careers to teach in each of our three schools. Over the years, IED Spain has trained more than 40,000 students of 100 different nationalities.
IED Madrid is spread across two sites; and the Barcelona school has another two buildings located in the city's Gràcia district. Added to this is the group's latest educational offering in Bilbao, housed in the iconic Edificio Papelera (the former paper mill building) on the on the island of Zorrotzaurre.
13.000 _
m2 dedicados of dedicated facilities divided across 5 sites
194 _
courses
3.300 _
students
1.400 _
teachers
200 _
companies
40.000 _
alumni
Facilities _
We have created flexible, open and stimulating workspaces that drive innovation. Modular workspaces that form a part of the creation process, that adapt to the complexity of each project, from the most personal scale to the prototypes for leading firms, or even larger-scale programmes.
Our buildings, which are industrial in style, are found in the most emblematic neighbourhoods of Madrid (Carabanchel) and Barcelona (Gràcia).
We seek a connection with our surroundings, participating in the processes of urban transformation that design can bring to the city.
IED Innovation Lab _
A space for design as transformation
The IED Innovation Lab (iil.) is IED's centre for innovation, created to put the value of design into practice in moments of transformation within other disciplines, such as technology, business, the environment and the city. Conceived as a hub to devise, investigate, articulate and prototype collaborative models and processes that drive action, always based on the interaction of design with other sectors, it acts as the cornerstone of a new project culture.
This enables dialogue with future scenarios, generating innovation processes, and anticipating changes and new user requirements.
The IED Innovation Lab comprises a broad team of experts, a community of designers, and a range of research laboratories, which constitute the ecosystem of the Digital Design Lab, I+ED Lab, Food Lab, FabLab, CityLab, XRLab and REC (Research and Education Centre), dedicated to research in fields as diverse as the future of cities, mobility, food, the audiovisual sphere and human interaction with technology. The iil. stands out for its multidisciplinarity, cultural diversity, sound research processes and a creative approach to final solutions that develop cross-cutting projects.
The iil's main focus is centred around research into new design applications, integrating laboratories, a commercial approach and technological research centres in a bid to unearth market value solutions to future problems.
Its modular spaces, which add up to over 7,000m2 across the Oporto neighbourhood in Madrid and the Gràcia district in Barcelona, have the capacity to adapt specifically to each new mission. Its work dynamic revolves around the development of projects together with companies, public administrations and education institutions, with a configuration that permits the development of any type of experimentation based on design, adapted to all challenges related to the transformation of an individual, an organisation or society as a whole.
Visit us: iedinnovationlab.com